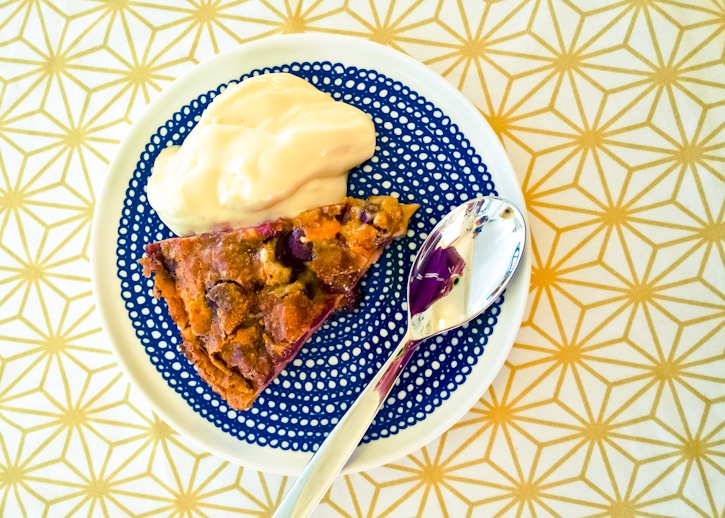 There comes a time in the evenings, particularly on the cooler nights where your mind drifts to thoughts of warm baked puddings – but it's a Wednesday and already too late to contemplate pie.
We've all been there. I'm there often.
When time is short and only pie will do, there's no need to compromise with this delightful French classic that will make you feel at home – even if you're in a far off land.
Fancy in name and connotations, this desert will impress your pyjama clad companion and satisfy the urge for pudding with one bite. The best part is, it's made from on-hand ingredients you're likely to have just lying about in the pantry. (I mean who doesn't have sour cherries in the pantry – right?) Win!
Sour Cherry Clafoutis
The Pantry
1 jar of sour cherries, drained
6 eggs
250 ml of milk
100 grams of flour
Pinch of salt flakes
75 grams of caster or brown sugar (I used panela because it was handy and gives a great caramel flavour)
Butter to grease a 23cm pie dish – don't be shy, this is pudding, not diet food.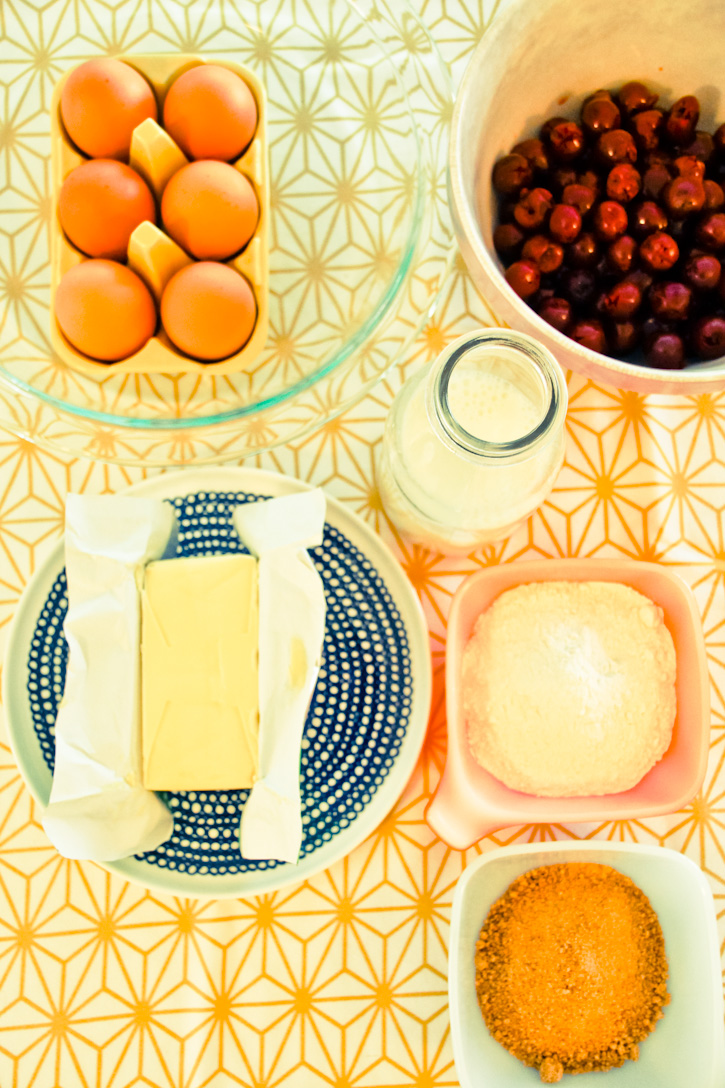 Preheat your oven to 200c.
Combine the flour, salt, eggs and a little milk in a large bowl and gently mix until combined. Gradually add more milk and whisk well until very smooth – the consistency of crepe batter. Set aside.
Generously grease your pie dish – and I mean generously, leaving a few thick smears of the butter here and there.
Pour the drained cherries into the pie dish and cover with the batter. Sprinkle the sugar evenly over the batter and place into the oven.
Bake for 25-30 minutes until risen, and golden. The custard should be firm with a slight wobble in the middle. Allow to cool for 15 minutes before serving with a little too much vanilla custard or thick double cream.
Retire back to the sofa and flick on the next episode of Orange is the New Black and be grateful you can whip up a deeply satisfying pudding with a moment's notice.
Note: This recipe is very versatile and can be combined with a variety of different fruit. Dried apricots make for a surprising treat. Simply soak a cup full of dried apricots in freshly boiled water for an hour and proceed as above for a fresh take on a baked apricot Danish – sans pastry.